Samples of Bail Motions that Really Worked!

Superior Court Proven by Bail Insurance Agent Rex Venator

BAIL MOTION SAMPLES & ADVANCED BOUNTY HUNTING
BOOK and BAIL MOTION SAMPLE PACKAGE DEAL
Get the Companion Bail Motion Strategy POD Book
and the "Bible of Bounty Hunting" Bail Enforcement 101 Book,
"Modern Bounty Hunting: A Real-Life Guide for the Fugitive Recovery Agent"
Bailspeak Pre-Licensing & Continuing Bail CE Class Handouts
DISCLAIMER
By ordering any of the below class handout examples, buyer understands that published case cites should be researched to assure that current precedent has not been superceded, that all sales are final, that each set of documents is for educational purposes only and hereby forever releases and forever discharges Bailspeak, and its/their agents, heirs, executors, administrators, assigns, and successors in interest of an from any and all claims, demands, damages, causes of action(s) and debts whatsoever, in law or in equity, which, may or may not occur either directly or indirectly from purchasing any of the above for information purposes only bail motion packets.
You should always consult an attorney who practices law with an emphasis in bail law before moving a court.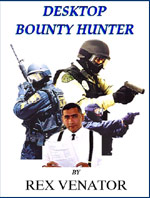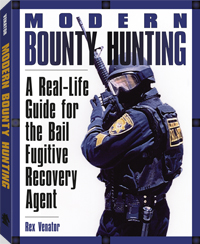 Motions and Books Purchased Separately

 

$619.00

 

Plus Shipping,

Handling and Tax




 




SPECIAL PACKAGE DEAL PRICE

 

$499.99

 

Plus Tax – Shipping & Handling

Included in the total Cost of this Special Bailspeak Offer!


 
This "Modern Bounty Hunting" Book Included in this Special Package Deal!
Declared "The bible of bounty hunting" by Fugitive Recovery Insiders.

This Book "Desktop Bounty Hunter" Included in this Special Package Deal!
A Bail Class Favorite!

"Yesterday, I filed my first 1305(g) motion in Santa Clara County that I actually drafted myself. This was not an easy task for being the first one, but it was great experience. Hopefully it will be enough to get the company off their liability. I'm glad I took Bailspeak's motion class because it really helped me know what to do!!!!!

From pre-licensing to modern bounty hunting to street training to actively soliciting to getting cases to bounty hunting liability free to appearing in court on surrenders and motions to now drafting motions, it has been hard, but I owe all of my accomplishments to Bail Speak, Rex, Lion and all of the great advice and guidance from people on this forum!!!! Thank you for everyone's support and assistance."
~ Bailspeak Alumnus
Copyright 1992 - 2016 Bailspeak, All Rights Reserved

"I would like anyone reading this to know one thing. Rex knows this business! I've had the distinct pleasure of apprenticing with, and working side by side with Rex. I can definitely say from firsthand experience that when it comes to working all aspects of a bail recovery case Rex's knowledge is unparalleled, especially when it comes to the legal aspects of avoiding liability. When it comes to being tactical in the field, well let's just say that I wouldn't hesitate to clear a house with Rex as my partner.

With the knowledge I gained through working with Rex I was able to land a position as a full time bail investigator with a major bail agency here in California. If it hadn't been for my association with Rex I wouldn't have had the success I've had so far in the fugitive recovery business. In just four months I've successfully closed out over 50 cases and I've saved my company over a half million dollars in liability. So far, not one of my cases has gone into summary judgment, and I've kept myself free from liability as well, and that all comes from the basics that I learned about this business while working cases with Rex.

What does this mean to you? Well, if you are visiting Rex's website and reading this now, then you obviously have an interest in the fugitive recovery business, and if that's the case then all I can say is....buy Rex's products! They'll be a virtual goldmine for you!"

Thanks Rex!"
Sincerely,
Sam James
The number of currently licensed bail agent and bail bond company owners seeking assistance with bail motion assistance is skyrocketing and in combination with attorneys who are seeking more information about bail law and motion to the extent that the Bailspeak Package Deal on bounty hunting and advanced bounty hunting law and motion orders made this page necessary to meet the growing demand.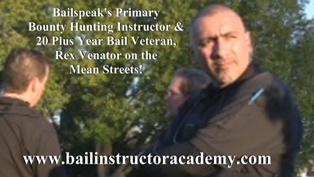 WHY SHOULD ONE CONSIDER LEARNING BAIL LAW AND MOTION?
Without fail, telephone calls eventually arrive by people who harbor an undertone of acute desperation, brought on by an intangible apprehension of the unknown in combination with the potentiality of loss, that seemingly forestalls problem solving synapses from firing, and the consequences of inaction are far-reaching and possibly catastrophic to even the most modest of living standards of not just the callers but also their families and employees and all of which are subject to minor and even considerable conversion from what is to what may have to be.
Some of the more common calls are paraphrased as follows:
·         "I got two summary judgments.  I thought they'd clear themselves."
·         "I can't do my own motions?"
·         "What do you mean I'm out of time?"
·         "They pulled my motion and hit me with a summary judgment!"
·         "This guy gave me a motion he used, and the judge said it wasn't the right one for my deal."
·         "I thought it could be attacked collaterally, but the judge said no."
·         "They're attacking every little thing!"
·         "He (the judge) said there was no good cause for an extension."
·         "I used to file these all the time; I don't know what happened."
My standard reply to such folks is contact an attorney who practices law with an emphasis in bail law for legal advice, for the time to learn what a bail agent may and may not do and how to do it is before calamity strikes.
The filing and appearing on one's bail bond motions is time-sensitive; it requires a working knowledge of bail law; it requires a working knowledge of civil procedures; it requires an ongoing knowledge of published case cites to determine what may or may not be actionable, and, if you are a bail bond company owner, treat this area of study like the solvency of your company depends on it. 
Lastly, for bounty hunters who refuse to consider the study of bail law, keep filling up your gas tanks, spinning your wheels, and engaging fugitives in armed confrontations, while advanced bounty hunters spot technicalities and get paid with far fewer dollars spent bounty hunting and with greatly reduced liability under Bailspeak's Applied and Proven Theory known as "Causation."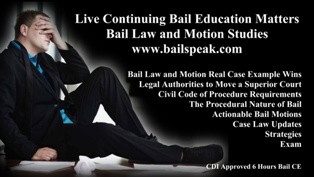 A Working Knowledge of the Bail Motion Process is Critical!
A major part of running a bail bond company is, quite frankly, your active willingness and effort to have a working knowledge of how to draft, appear and then stand up in a California Superior Court, fully prepared, to make an oral argument, counter written and oral opposition from government lawyers, and then convince a court that granting your moving papers is the correct action that will also keep your company solvent.
Bailspeak CDI Approved Bail Law and Motion Bail Agent Pre Licensing and Continuing Educational Samples of real motions, petitions (that actually worked in court as argued by Rex) to exonerate forfeited bonds and much more information critical to Advanced Bounty Hunting by Fugitive Recovery Agents, Bounty Hunting Bail Agency Owners, and in house Bail Enforcement Agents.
Included Samples Available separately for Sale at www.prelicensingedu.com are as follows:
·         Bail Motion to Release Confidential Government Records
·         Request for Judicial Notice & Exhibit Verification
·         PC 1305(a)(5) Bail Motion to Vacate Forfeiture and Exonerate Bail Bond
·         Contract Law Based Motion to Exonerate Bail Bond
·         PC 1305 (d)(1) & (2) Motion to Exonerate Bail Bond Forfeiture
·         PC 1305 (b)(1) Bail Motion to Exonerate Bail Bond
·         PC 1305.4 Bail Motion to Extend Time
·         PC 1305 (c)(2) Bail Motion to Exonerate Bond
·         PC 1305(c)(3) Motion to Exonerate Forfeited Bail Bond
·         PC 1305(c)(4) Bail Motion to Exonerate Bond
·         PC 847.5 Bail Petition
·         Bail Motion Proof of Personal Service
·         2 Replies to Bail Motion Opposition to Discharge Forfeiture and Exonerate Bond
·         BONUS MATERIAL! – PC 1305 (b)  ~ Late Notice of Forfeiture ~ non-op

Avoid Summary Judgments – Avoid Bankruptcy – Earn Huge Commissions!
LAWYERS know the value of what is below on this page and with some saying there is "...easily $50,000.00 in billable hours..." had they themselves done the work!
10, 20, and 30 Year Bail Bondsman also know the value and both lawyers new to bail law and veteran bail agents have scooped up the below package deal of research documents for educational purposes.
GETTING PAIDas a PC 1299 compliant bounty hunter is a much more complicated proposition than what is plainly visible on the surface of a simple premise—find and book a bail jumper.
Let us set aside that first a newly certified bounty hunter and even a veteran bounty hunter must first find bail agency owners or bail corporation policy makers who will hire them; this "horse before the cart" reality is inescapable and yet remains entirely possible.
For example, the following quotes are recent and real:
"A notable percentage of a California powerhouse in the California Bounty Hunting Industry is made up of an Elite Group of Top Producing Bailspeak Alumni."
"I will begin work as an investigator (bounty hunter) and just wanted you to know that my journey began with Bailspeak and how your class changed my life and set me on a course that is going to be amazing."
Here we can conclude the facts in evidence supporting proper bail education is more than empirical because there are many, many more folks reporting in of their successes entering into the California Bounty Hunting Industry; however, it is beyond contestation that those who are successful in bounty hunting are hard working, never give up, self starters that see life filled with opportunities versus seeing life filled with insurmountable obstacles.
Let us get back on point and advance this opinion editorial with an emphasis on how top tier bounty hunters with roots in Bailspeak are now surpassing my own bounty hunting income, which was my goal from day one of starting Bailspeak.
These fine men and women are extremely proactive, well educated, and with many managed by Bailspeak educated bounty hunting division managers.
I, myself, as a self-admitted "part-time" bounty hunter since January 1, 2013 have been extremely busy on bounty hunting investigations, but my approach to such matters is multi-pronged and with many incoming bail jumping cases being farmed out to, well, Bailspeak Alumni whenever possible.
The accompanying photo was taken because I was surprised at how far behind I had been in having one of my sets of advanced bounty hunting uniforms ready to go; indeed, I had some ironing to do on my dress shirts.
For a while there, I seemed to be living in courtrooms from early April until late June where, well, I was working to get paid as a bounty hunter—in open court.
It struck me that attacking a bail bond forfeiture in court is structured like attacking a bail bond forfeiture on the streets: I accept a case; I study the case file; I secure more documents for the case file; I investigate; I strategize; I then prepare for direct action but not always with body armor, a team, handcuffs or a pistol; I don a three piece suit and walk through metal detectors to make an argument in front of a judge based on self generated moving legal papers—bail motions, as a licensed bail agent and agent for multiple sureties.
The prep to street bounty hunt or court bounty hunt really isn't that much different in terms of end goals.  Each methodology requires proper bail education to learn how to approach bail bond forfeitures legally and safely.
I will contact Bailspeak Alumni bounty hunters who are PC 1299 Compliant, fully equipped with safety equipment, geographically in proximity to the prospective client, and capable of prosecuting a bail jumper investigation with that "failure is not an option" mindset.
Can anyone be a bounty hunter?  No.  It takes a person with a warrior's spirit, a military sniper's patience, the compassion of a doctor, the mind of a strategist, and a student of the hunt.
Can a person become a bounty hunter?  Well, that is up to the individual, and, often overlooked, it is also up to the individual's family who must be supportive of a new bounty hunter's chosen path filled with difficult tasks.
Luck in bounty hunting ~ Rex, Bailspeak's Primary Instructor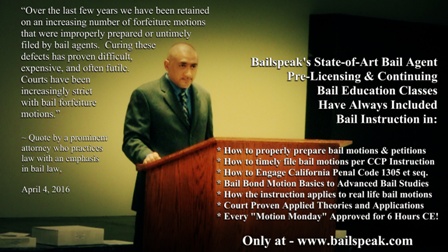 "Very comprehensive & informative, time spent on real life situations & circumstances.  Overall, this is the best CE class that I've taken in my career."
"I appreciate the current events, applications & relatable stories as examples.  Instructor made sure my answers came from knowledge and not just a good guess.  Instruction was fast moving but extremely detailed."
"[The class was] Very thorough.  I really enjoyed the character and personality of the Instructor.  Definitely got me excited about the industry.  His [the instructor's] passion is contagious."
"This course was very difficult to comprehend but with extensive/numerous relatable examples of real life experiences shared by the instructor I was able to understand the material presented.  There was nothing that I didn't like."
"[The class was] very informative.  The instructor was excellent."
"[The instructor was] very knowledgeable and well versed in the subjects presented.  [The instructor was] very engaging and interactive with lots of anecdotes and real-life experiences."
"[I liked] The stories that were used as examples to explain the topics."
"I have already recommended several individuals to take this class/training.  [I like that the class was] very specific & accurate information [is provided].  I want to know what he [Rex] knows!"
"[I liked] how everything was put into stories and that I learned new laws and the different kinds of cases.  Very good teacher.  Thank you!"
"I will recommend this seminar to others!  I really liked the level of engagement Rex had with the entire class.  I enjoyed the instruction and understood the instruction as given.  I would like to say thank you for the excellent instruction."
"It explains a lot about the bail business and bounty hunting in an easy to understand way with the examples given.  A lot of information in short amount of time, wished I could have time to process before moving on.  I like the course a lot though.  Fun class!  Enjoyed listening to Rex.  I came in not knowing what to expect and I want to listen to more of his experiences."
"Is very intense and full of information very well explained, but I did not catch 100% but I will.  A bit too fast for me to understand.  Totally new to this field.  Overall the class is excellent!"
"I liked the pace and the flow of the information given.  Everything taught had a reason and point to be made.  Rex was awesome and made the class interesting and easy to get and digest the information."
"[I liked] the speaker's enthusiasm, stories & shared experiences!  Certain topics are difficult & complicated."
"Instructor explained the material in a colorful way in order for people to understand the information.  I wish it was a longer class."
"Keep up the good work!  The way Rex made me think at associations to help me memorize things!  Couldn't imagine a better course!"
"[I liked the instructor's] knowledge.  Great class!"
"[I liked] everything!  Great examples and useful information; hand outs are broken down to be understood."
"[I liked] the stories to associate what is learned and the unique way of teachings.  Helps retain a lot."
"[I liked] the real scenarios and discussion shifting from materials to discussion was great.  Very pleased."
"I liked that the laws were brought up – it brings light on the real side of the bail business I did not know about.  Some of the codes are difficult to remember but that's on me, not the course.  Thanks for everything!  The class was beneficial and entertaining."
"Very informative and interesting.  Rex is an awesome instructor and really back up what he was teaching with stories and examples."
"[The course] covers a lot of important information."
"A lot of good information.  [I liked] that the class covered all the new bounty hunting laws.  [The instructor] was good and knowledgeable."